Why Should You Upgrade To Windows 8 ? Here Are Some Reasons
Until the date reaches October 26th, the whole Tech World is waiting for a major update about which it can feature after 26th. I'm talking about the very same Windows 8, the latest version of Microsoft's Windows Operating System. As you've been hearing from the whole world, the software cum Tech Godfather Microsoft is changing their identity for sometime via the excellent features of Windows 8. You may have also heard about Metro User Interface and other features of Microsoft Windows. So of course, Windows will be a larger Operating System.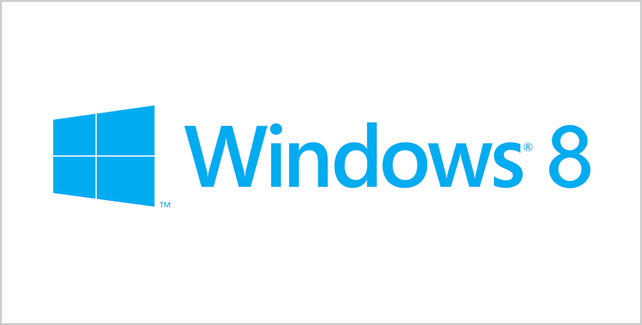 As mentioned before, Windows 8 is coming with a massive number of features and these features make Windows 8 a better Operating System than Windows 7. Actually I'm now very much impressed with Windows 8 Release Preview on my Friends' laptop, just because of its awesome performance and other enhancing features as well. So I'm actually waiting for Windows 8 to come alive soon. By the way according to a user, it's not a concern how big is the OS. What they (obviously, you) want to know is whether the OS is beneficial for them. As being a usual question in the tech world, here we'll tell you "Why Should You Upgrade to Windows 8 and how it'll be beneficial for you".
Development & Release (Interesting)
Let's know some interesting facts about Windows 8. It's hard to believe, but at that time true that Windows 8 Development was started before the launch of Windows 7 itself. So we can assume the start in 2009 or before as well. In order to commercialize the OS, Microsoft has published preview (Developer Preview, Consumer Preview and Release Preview) Versions of Windows 8 on the last year. Developer Preview, Consumer Preview, and Release Preview were announced on September 13th 2011, February 19th 2012, and May 31st 2012 respectively. However, using the Consumer Preview, anyone can experience a great Windows 8 (as I did).
As of the data on August 1st 2012, Windows 8 has successfully left the Development lab and arrived at the Manufacturing section. If the processes are having no problems, each and every Windows lover can purchase the latest and smart Operating System on October 26th 2012. And now let's listen to some reasons for what You Should Upgrade to Windows 8.
Faster Startup than Old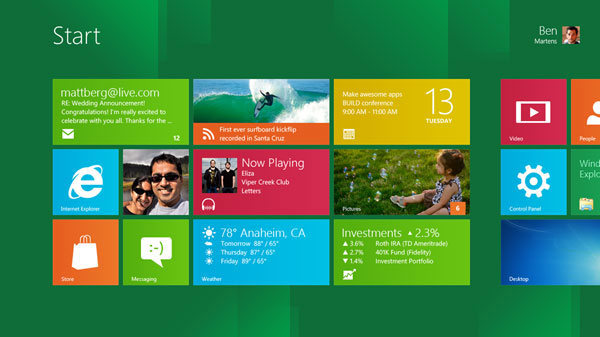 One of the reasons made me to shift to Ubuntu is the low boot up time as compared to Windows versions. But Microsoft has understood the matter very well and that's why they shrunk the boot up time of Windows 8 to a very low level. Even though you know that faster boot up of your system is not a sign of better performance, you (including majority of PC users) don't like to sit in front of your monitor waiting Desktop to come up as the second hand of clock completes a revolution.
As well as adding a low amount boot up time, Developers have created an awesome, hybrid shutdown mode for Windows 8 which forces your PC to have a faster boot up time. While using this mode, you're actually combining the regular shutdown procedure with core hibernation. Hence, when you start your PC again, you'll be getting a FRESH User Session where the system don't need to set up the whole initiating procedure again.
Better Task Management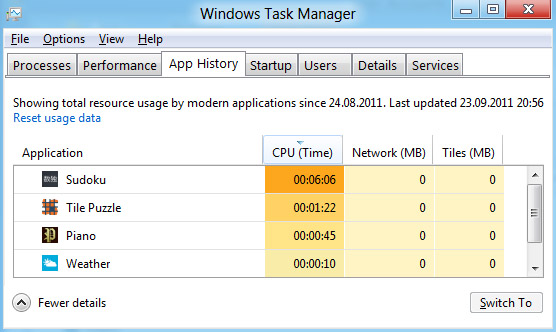 An Operating System is like a broker between YOU and your PC (Nowadays, including Smartphones and Tablet Computers as well). Since all the components of your PC are made to do multiple works at time, an OS should be having a better task management system in it. While looking Windows 8 from this angle, it's a great Operating System due to its top, and well working Task Manager. We use Task Manager in previous versions of Windows for forcing 'NOT RESPONDING' Programmes to quit. But in the case of Microsoft Windows 8, it's more than just Quitting.
The developer team have designed and set up a brand new task manager system for Windows 8. Using this quick and efficient feature, users can easily understand the whole processes running on our PC and hence to absorb needed information very rapidly. Your desired information may be the PC's CPU usage, RAM Space, Running Processes or anything the new task manager will be having perfect answers for you. So what we can understand is that the Windows 8 Task Manager is not only for managing tasks but also for improving the general performance of your Windows 8 powered Computer. Several Tabs like App History, Startups are now available in the Task Manager.
Windows Explorer

This name wasn't known to me until I started using Windows 7. But when I saw the Windows Explorer included in Windows 8 Release Preview, actually I felt a resemblance with the top menu in Microsoft Office 2007. Yeah the new Windows Explorer includes several features on the Top Menu for easier navigation of files. But the new interface can be easily disabled it It's interrupting you.
And the most favorable fact that I found on the new Windows Explorer is Great File Transfer Speed. The Friend's PC was using an Intel i3 Processor and a 3GB of RAM. And I felt a big increase in the file transfer speed. And a better representation of varying speed is also included in the file transfer window.
More Security Options
The importance of Security has become very large as the days went on the Tech World. And all the features including Operating Systems are bound to bear changes aiming better personal protection against Cyber crimes. Even though a large number of malwares or Trojans are revolving our Computing devices, we've put forward a step of improvement in security. Just because of this improvement what we are considering after performance is security features of that software/service.
When it comes to Windows 8, the chance of being more secure is increased in high intensity. In this OS, the interaction between Metro Applications with Windows OS is a little bit limited so that a malicious software or Application can't actually affect the Operating System. This great technique is based on Microsoft's WinRT API.
Refreshing and Resetting Your PC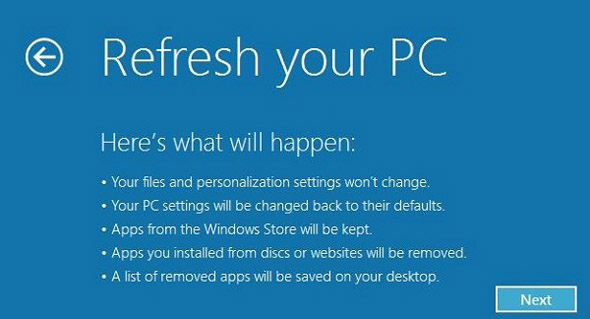 Everything, including your PC gets tired when a very large number of works are done by it. And when it comes to a GEEK, Computer Activities will be involving several installations and reinstallations. When your PC gets tired of damn load, you'll need to reinstall your whole OS. But as we know, it's a much difficult task to re-install your OS and re-start with a new and fresh environment. The chances of being in trouble are very much increased while re-installing your OS. And probably, re-installation will take upto 2 hours. But from the next second you start using Windows 8, you can actually forget the difficulty of re-installation of Operating System.
They've added an option dubbed as 'Refresh'. Users can use Refresh and Reset option instead of a reinstall. Refresh option works as a partial reinstallation of your Windows 8 while the Reset option makes your OS a blank one with no data at all. Reset option is familiar with us but Refresh option is not.
While refreshing your PC, files or personalization settings won't be changing while the PC settings will be backed up to default one.  Apps that you've installed from sources other than Windows Store will be deleted but the ones from Windows Store will be kept on your PC.
Hope you got an idea about Windows 8's top features forcing you to upgrade from previous Windows versions. So what's your decision about upgrading to Windows 8? Share it on Comment sections. If you're ready to upgrade, you can pre-order your Windows 8 Copy from Here, The OFFICIAL WEBSITE.