Top Must-Install Apps for Your Fresh Android Device
Android is the richest mobile platform in the amount of Apps! Do you have any objection in that? Probably there will be no one to object in this statement as most of techies know 100 thousands of FREE and paid applications are there in Google Play Store, ready to set up a productive, entertaining, and miscellaneous purposes for android based Smartphones, Tablets and cameras too (Hope you got the name of Samsung Galaxy Camera). There's one fact too. Your android based device will be nothing if appropriate apps are absent in the device.
This is the holiday season and you might have either bought new devices or received them as gifts. So, this post is for who got an Android Smartphone, Android Tablet or Android camera in this season. As we said, Apps have become the power of your android device, and you want to install apps in your android device after linking your Google account to the device. But, isn't the large number of apps is making you a little bit confused? In most cases it is! And now, let's have a look on some Android applications which you must (If you want your android device in multiple roles) install in your freshly set up Android Smartphone/Tablet/Camera. Usual apps like Facebook, Twitter, etc are excluded from the list.
Hope you're familiar with Google Chrome as it's a superb web browser available for different platforms. And the list of platform is constituted by Google Android as well. You don't need this application if you're buying Nexus 4, Nexus 7 or any android device with Android Jelly Bean or later as Google has already set Google Chrome as default web browser by replacing the Android Browser. And, you can only install this application in your device only if it's running on Android 4.0, Ice Cream Sandwich.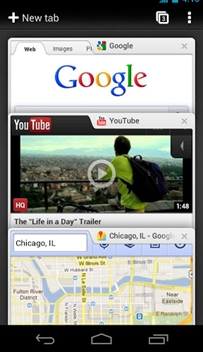 For me, Chrome is like my internet navigator, if it's like that, Chrome for Android will do the same in your device as well. You can synchronize your bookmarks throughout your android devices and the application offers a bunch of great multi-platform supporting features. Doesn't it sound great? But some reports remark Google Chrome as a little bit slower when compared to the speed of the native Internet Browser. Don't you compromise a little bit of speed, when you're getting a great list of features?
In touch screen gadgets, the function of keyboard is also done by the touch screen. So the keyboard functionalities won't be enough for you being a geek. If you want a solution plus a highly customizable one with more features, you may go for Swype or Swiftkey.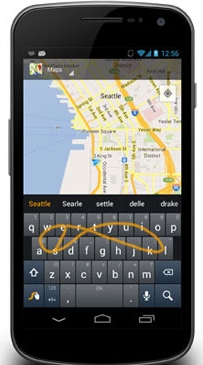 Both of the apps are variety in the function because Swype keyboard will let you drag your fingers over desired letters to make the word whereas Swiftkey offers a better spell correction and word prediction features. But it seems that you don't need to install Swype in your Samsung Android Device because it comes preloaded.
One of my favorite Android Apps! The application provides an 'Offline Read It Later' service and has become one of the top apps of 2012. It was packed in 2 MB in my Galaxy Y and started its awesome work from the next second of installation.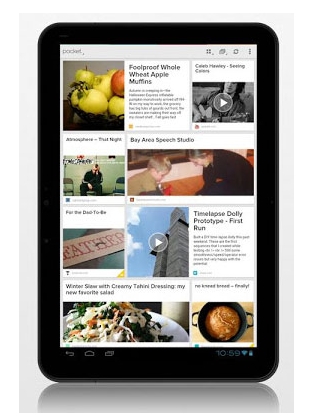 The app will integrate itself with your browsers and there'll be a new option called 'Save to Pocket' in the sharing section. You can simply tap the option and the application will neatly save the article to the device for offline reading. Everything in the application is arranged simply but great and you'll surely get a smooth Read it later experience with Pocket.
Geeks love to read! Reading is such a way to increase your productivity. Isn't it? But when the reading occurs through Internet, it is called E-Reading. But it won't be much fine to lead to each of your favorite websites and read articles. So, you should better have a united place for all these online publications.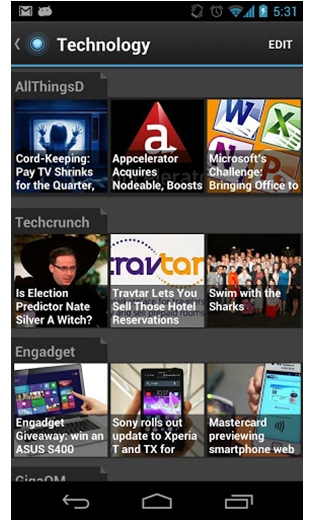 Google Currents or Pulse will do the job well because both of the apps are ready to unite your whole online media and arrange it in a smooth style. Google Currents is only compatible with devices that run on v2.2 or later while Pulse supports earlier versions as well. Both of these apps will provide you a great online reading experience along with other media such as photos, videos etc.
I used to mess up things. Do you? If you do, Any.Do will be enough for the duty. Any.Do is a superb Android Application for managing your to-do tasks. Drag and Drop features of the app is making the usage smoother. You can set up reminders, sync missed calls into tasks, synchronize with Google Tasks and etc to manage your precious time. And you'll love this FREE app for sure.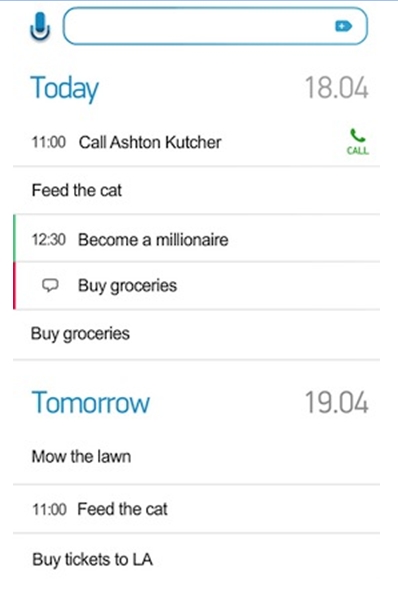 Are you a business man cum geek? Then this application is for you. This application will unite your bank account details, debit/credit card details in a single place. The application is owned by Intuit and you don't have to think about your information's safety. Using this FREE application, you can have an eye on where and how your money is going or coming. So, it's a nice app for sure.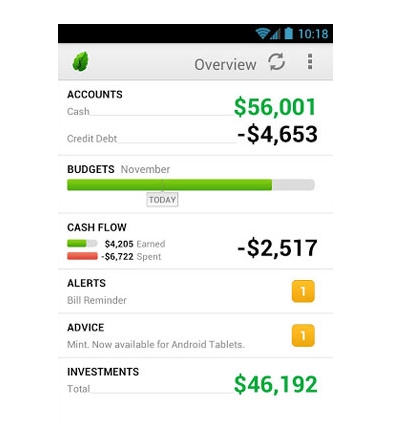 Installing all those apps listed above doesn't make your Android device perfect but will surely boost the productivity of your device for sure. And we know that you'll have suggestions for sure. So, free feel to list out those applications through your comments.