Three Boxes To Convert Your TV Into Smart TV
Our world is going SMART isn't it? Now we can see Smartphones, Smart Watches and Smart TVs. We never try to determine how smart they are despite the fact that those devices may behave in a worst manner sometimes at least. Leave It! We can just conclude that those devices are really 'SMART' in majority of situations. By the way most of you will be having smartphones as they're available in an affordable budgetbut what about a Smart TV? As far as I know, Smart TVs haven't been much popular as that of Smartphones. Obviously the reason is their high price range and other pre-requisites. Just imagine that you have an awesome smart TV but lack a Digital Connection for channels. It'll be probably like tire with less air in it.
And I know a few people who refuse to buy a Smart TV because of the lack of a Digital Connection. But is it fair that you should spend that much money for enjoying SMART features through your Television? No unless if you haven't noticed your post. Some electronics companies have come to the market with some wonderful products which can convert your TV to a Smarter one than before. Integrating these devices with your normal LCD/LED/Normal Flat TV won't make them SMART compatible with in-born Smart TVs but surely they'll provide more smartness for your Television. So let's have a look on these wonderful devices.
1. Akai Smart Box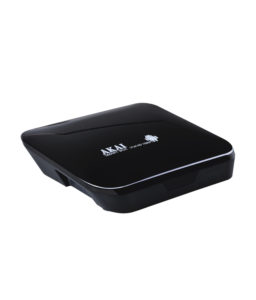 I expect an Android lover here and I strongly prefer this device to them as this device is powered by Android's so called stable OS version, Android v2.3 Gingerbread. Yes it is! So isn't it good to see your TV powered by such a global lever Operating System? What you have to do is connecting this small gadget via USB, HDMI, or Composite cables and the device will convert your normal TV to a Smart TV. As I said before you'll have to sacrifice something. In this case, the one should be sacrificed is your Remote, which is essential while watching movies videos etc. The device comes with a built in mouse control by using which you can control your SMART TV. The controls given through the mouse will surely make you remember about your Android smartphone.
This gizmo comes with a 1.2 GHz ARM processor with Cortex A8 Process which is hopefully enough to smarten your Television. It has a 1 GB of RAM, 4 GB of USB Flash memory expandable up to 32 GB via SD Card. You won't need to buy other gadgets for connecting Akai Smart Box to internet as the device itself pose built in Wi-Fi and Ethernet Ports. User Interface is very important in each device and when it comes to a device like TV, importance of UI becomes very much essential. Knowing this fact, Akai has included a great UI for this device which is based on the Great Android. It has categories to nicely arrange your media favorites and other channels.
This device boasts some pre-loaded apps which will together satisfy your needs such as Office, Media Player, Social Networks, and Games etc.But there's a report that newly installed apps behave very much unfriendly than that of in-built ones. The device is a good player for .AVI files but feels a small stuck when you give some .MKV files for the device to play. In spite of these problems, Akai Smart Box is a good SMART converter for your TV and is available at a price range of around 7000Rs. At any case it's better to spend 7K for such a device than spending a bomb for in-born smart TVs. Don't you see this gizmo worth your money? Surely you'll because you've got a nice OS and others in it.
2. Portronics Limebox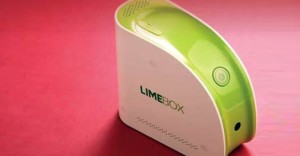 Do you feel this name a different one? But the gadget is simply 'Cute'. And this device can be considered as a tight competitor of Akai Smart Box even though the price is a little bit bigger than that of Smart Box. But the increase in price constitutes some major cum useful additions in the device. It has a green, pizza slice like shape. Furthermore, for enhanced user experience Portronics offers a remote with Limebox which will allow users to manage the viewing content on TV without waking up from your chair or Sofa.
Limebox is powered by a 1.2 GHz Rockchip processor and almost same specifications of Akai Smart Box except a lesser RAM of 512 MB and an addition of 2 USB 2.0 slots for easier file management. The gizmo offers a superb FullHD playback even though the file is in a .MKV format for which Akai Smart Box wasn't enough.
Even though it has a remote with it, you probably won't be much comfortable with the device as the lack of keyboard and mouse will surely hurt you. Even though the device has an Android platform with it, unless it has a touch screen and mouse, you'll surely miss your favorite Angry Birds in Limebox. Preloaded apps and some Play apps will work fine in Limebox but you'll have to suffer some pain while trying to run other apps on this. Portronics Limebox is available in the market for a price around 8500Rs which is absolutely larger than Akai Smart Box.
3. Zotac Zbox Nano XS AD11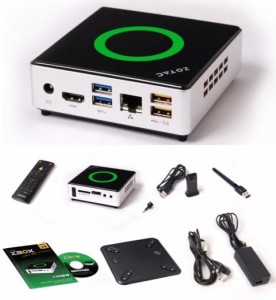 Let me tell you at the first, it's very expensive. Zotac Zbox is a 4×4 inch gadget with a pretty look and the size seems to be very huge when compared to that of other gizmos offering the same features. But the company is not trying to fool you buy this bigger size but offers a full-fledged PC using the small (Yes! Now it is) device. And the device hopefully runs even Windows 7 smoothly as it has a 1.6 GHz processor. Even NFS MW will work fine on the device. The company has offered a remote control with the device which works associated with Windows Media Centre which in turn means that the device's remote is a worst one if you refuse to install the Microsoft OS in it.
The device boasts a Dual Core AMD E540 processor and an AMD Radeon HD Graphics along with a powerful 2 GB or RAM. 2 Couple of USB 3.0 and USB 2.0 slots will surely help you to manage files easier though 64 GB of mSATA memory won't be enough for your storage. It has all other features of other devices such as Wi-Fi, HDMI etc. And those features seem to be quite suitable.
Let me take my word back that the device is a Full Fledged PC. It is not unless you've bought a pair of Keyboard and Mouse to power your Windows/Ubuntu OS. Can you ever think about a full-fledged Windows 7 PC which lacks both Keyboard and Mouse? And we said about doublet pairs of USB ports but if you're connecting a keyboard mouse combo and Wi-Fi dongle with it, there's only one port left for your USB to get connected to the device. If you refuse to install Free OS's like Ubuntu, you'll again lose some money as the license for OS. Worst of all, the device is priced at a range of 25K. Do you think there's still some reason to buy this half-fledged PC? Then you can go for it.
Still there're remaining gizmos which will convert your normal Television to a Smarter Communication device but among all, these three are found to be best. Do you use any other devices to smarten your TV? Put their name in the comment list.