Top 5 Desktop Music Players
Anyone here is not interested music? Obviously I can expect the answer that all of you are very much interested in Music. Since the humans started their evolution, music is with him having several changes according to the time and its trends. What to say, Music is now expanded among the globe itself. Rather than playing your music files, most of Desktop Music Players have multiple uses including keeping your huge music collection, making the music search easier and for synchronizing with Portable Media devices as well.
But you need a better Music Player for your PC/Mac in order to use these various activities. So let's have a look on Top Desktop Music Players which includes several more features than the usual ones. We've arranged these Music Players in the basis of a survey done by a famous Technology Websites.
Foobar2000 is one of the top, customizable, and flexible Music Player available for Windows based Computers. And the software is a completely free one and everyone can get it from the corresponding website. This superb software includes seamless music playback as well as a large number of keyboard shortcuts. The software also offers your whole music library neatly organized and very much clean. Developers are allowed to build useful plug-ins and add-ons to the software and these extensions can be downloaded through a single click. Because of its power, the software works very well even if you've integrated several add-ons to it.
MediaMonkey works well on your PC as a jukebox which plays all your music files and a tool to clearly organize those music files as well. MediaMonkey can be used for managing podcasts, ripping your CD's, organizing music files under the basis of tag-and-rename feature, for syncing files with Portable Media Players, and as a audiobook player. As an extra feature, the software will consider tags, album art, and other information about the song automatically. There is also a premium version where you need to pay $25 for purchase. But seems that the free version is almost enough for 90% of users. Cleanliness of music organizing and the nice user interface is making the application more apt for the title.
3.Winamp (For both Windows & Mac)
Winamp is one of the rocking Windows Music Player. The customizable music player for windows is a pretty fast one and absolutely free for use. Even though there is a premium version for $20, the FREE version is still enough for most of users. As in the case of MediaMonkey, Winamp can be used as a CD ripper, a video player, to synchronize your music between PC and Portable Music Devices, to subscribe for podcasts, as well as an awesome platform to download your favorite songs itself from the software. Rather than all these utilities, Winamp is a rocking music player. In another hand in the case of Winamp Mac, users are blessed with a feature called Mac Sync, by which they can sync music with your Android Devices as well as to import your iTunes playlists.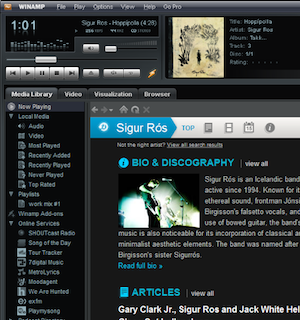 4. iTunes (For Windows and Mac)
Its features are the very same reason which makes iTunes one of the most used music player in both Windows and Mac. Rather than a simple music player, iTunes includes a superb music store from where you can get latest music. Syncing music between iDevices, managing podcasts, having a fully functional jukebox are possible with the same Application. While the platform sometimes stuck in Windows, it's the best music players in Mac OS. This FREE Application includes some Cloud Computing Related Features since it's having a stronger integration with iCloud and iTunes Match.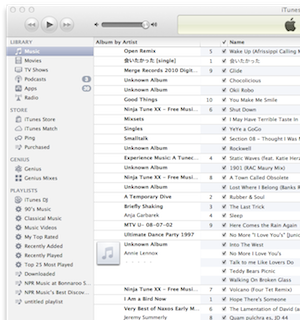 5. MusicBee (For Windows)
MusicBee is a lightweight, FREE, and although a faster Music Player for Windows which have earned a good compliment from various users. While including the major features listed above, it consists of an awesome facility to download information from internet sources like Last.fm. It's an easier CD Ripper too and also can be used as a playlist synchronizer with mobile devices.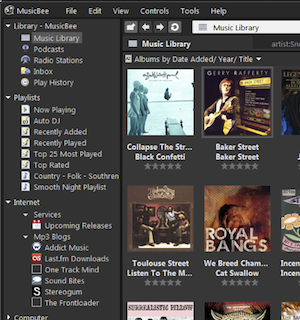 Which one is your favorite? Free feel to share the name on the comment section.