How to rescue your laptop from Overheating
Is your Laptop Burning? What does it mean? Whether Overheating is good or bad? The laptop that causes overheating leads to shutdowns, despite the cooling system being set at the maximum. What are the causes of overheating? And we can find answers for all these questions through this article.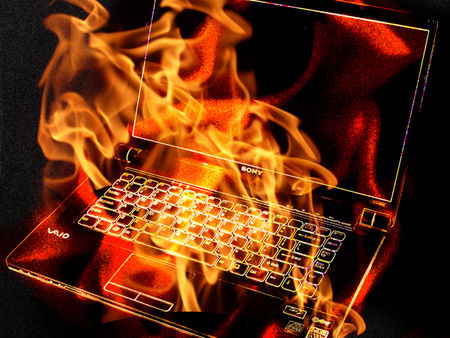 It is known that that laptop is quite small as compared to a PC. It includes all the components which PC has, like hard disk, CPU. They are closely packed together in a narrow space. They are high heaters. As we all know laptop is changing day by day. The latest laptop's CPU has high frequency. Hard disk runs very faster. All these factors make a laptop overheating. Also it depends upon the type of work that you perform on your laptop.
Dell says that failure symptoms include multiple images, random characters on the screen lines on the screen.  HP lists not detecting wireless networks as a sign of failure along with the wireless adapter not appearing in the Windows Device Manager. What will be the condition of our future laptops? Does it heat as hot as sun? Now let us discuss some problems caused by overheating of laptops.
Overheating of laptops may lead to hardware failure or permanent damage.
It forces the computer to shutdown suddenly without any reason.
It also leads to system crashes.
Overheating of laptops can steal your laptop of performance and often cause a host of hiccups.
At once when you encounter this kind of problem to your laptop, the first thing you must try to analyse the problem. After that, find an appropriate way to resolve the problem. A common reason seeing in most of the laptops is that overheating is caused when air vents is blocked by dust. It deprives your system's cooling section from cooling hence protecting the Central Processing Unit.
"HEALTH IS WEALTH". Problems that affect our health cannot be avoided. It must be considered very seriously. Over heating of your laptop may cause some health hazards. So to make proper concern about our health we must take little care about this over heating of laptops. Today most of the people use to do their works in laptop keeping on their lap, it causes severe health related problem. The current trend is favourable by the smaller size of today's laptops.
Through some simple methods we can resolve this problem quite very easily. Some of the simple solutions are listed below.
Clean out air vents, it helps to remove the dusts the blocks the path. You can clean these air vents simply using a cloth or keyboard cleaner. It reduces the overheating to certain limit.
Updating the BIOS can also reduce it. It controls your laptops hardware from overheating and some of the manufacturers offer an installation file that updates BIOS files automatically.
Put filtered materials over the inhalation vent.
Another important thing is that pay attention to the surrounding. It plays an important role.
It is better to use the laptops in a place with good ventilation.
Air conditioned rooms are best suited for the usage of laptops.
Hope these tips will help you to control overheating of your Laptop. Do you've any other solutions for the overheating problems? Free feel to share those on the comment section.