WordPress Plugins for converting your wordpress site to a forum
Blogging is getting commercialized now. Because of this, making a blog with dedication and making blogging a deep passion is familiar for tech junkies now. While the beginners are with Blogger they further moves to the open source and great WordPress. Both of these blogging platforms have their advantages and disadvantages as well. But our topic is not concerned about a comparison but aiming WordPress based blog. As we know, starting a blog, publishing content, and making It famous is a quite tedious task, especially now (Of course the reason is the massive number of blogs.) But probably you'll be reading this post if your blog is a little famous and when readers consider it as a perfect techy source.
Once your WordPress based blog is getting famous, at least some of the readers will consider it as their most reliable source for tech stuff. Therefore they'll be having a need of community for clearing their doubts when comment system won't be an appropriate one. So for comfortability and attracting more people, using a forum website will be better. But starting a forum website may not be much good for both readers and admin itself. Since you're using WordPress as the Content Management System, you don't have to fear because the mentioned open source CMS has also a huge collection of Plug-ins to support. So here you can find some top, reliable WordPress plug-ins for turning your blog into a forum website as well.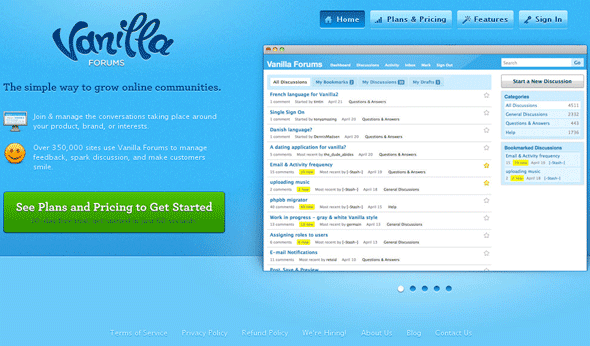 Vanilla Forums is an open source based forum system with a large number of active users. Famous websites including PennyArcade, Cult of Mac, and 9to5 are using this system to control their forum websites. This service has two faces; one free version and a pro-level one. The free version can never be considered only as a template since it involves a install process. And so, the system has an entirely different phase from your website. So you've to upload and configure the service. Therefore you can go smoothly with Vanilla forums if you're a little bit aware about WordPress installation and Database related things.
Once you finish the Vanilla Forum setup, you can integrate the service and your WordPress installation using a WordPress/Vanilla bridge plug-in. This is a little tedious task and you'll need of a tutorial like This.
Advantages:
• Well Trusted Service and used by a large number of Websites
• Widgets available for WordPress blog
• Availability of embedded codes for placing forums on an existing page
Disadvantages:
• A little complicated installation procedure which involves FTP and Database related configuration and a Plug n Play option is unavailable.
• Integration with WordPress Is much difficult task
Hope you're familiar with BuddyPress which converts your WordPress blog into a well working Social Networking Service. If you want to add a forum like experience along with BuddyPress, you can select bbPress which is also owned by Automatic. Because of coming from same place, you can get the best support and easier integration with WordPress as well.
If you want more than default features, a massive number of plug-in are available for also bbPress. This service doesn't interrupt your WordPress blog with big widgets.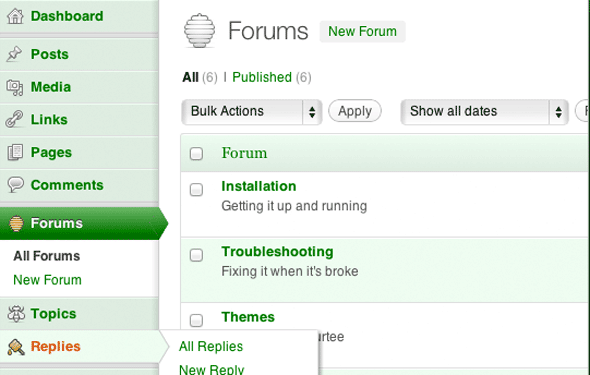 Advantages:
• Deep integration with WordPress Admin panel
• You'll get better support since it's from the source of WordPress
• Great working with BuddyPress and WordPress
• Doesn't interrupt your WordPress theme and page templates

Disadvantages:
• You'll feel a simplicity if you're migrating from a forum oriented website.