Top 5 Google Adsense Alternatives
Google Adsense is the best ad network that provides you the highest and reliable earnings, no doubt in it. But it sometimes it seems difficult to get approved by Adsense, so we may have to find some other network that can be used as an alternative for Google Adsense. But by now, there are a numerous number of ad networks in the web and it seems difficult to choose the right one for you. Apart from the approval case, bloggers may search for Adsense alternatives, since being banned from Adsense or to have an additional income other than from Adsense. Now I have done a search and have an exciting list of top 5 Google Adsense alternatives that will make you cheer but remember none of them listed here are better than Adsense.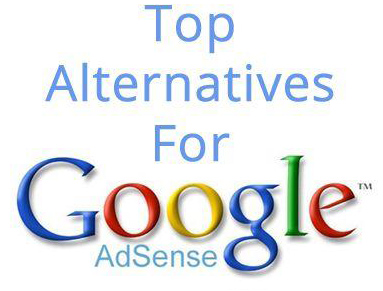 Adbrite work different from the usual contextual ad networks, it will allow you to create an ad space in your blog and advertisers can choose your blog for putting their ads and the price is set on a weekly or monthly basis. Adbrite will be more profitable for blogs and sites that has got good US and UK based traffic and the most exciting feature is that the rate can be set by us.
BuySellAds will be the best choice for you, if you have got a good number of traffic. BuySellAds won't approve blogs with sub domains i.e. .blogspot, .wordpress, etc….. They will also need you to have a good presence on social networks and will check for your search engine influence too. Furthermore you need to have an attracting page rank, Alexa rank, etc… to be a part of BuySellAds.com. They will generate good revenue for you even though their demands are tough.
Clicksor is one among the most popular ad network that can be used as a best Google Adsense Alternative. Clicksor is rich with different kinds of ad formats like Inline text links, text banners, rich media banners, pop under, inter ads, layer ads, search box, XML feeds, etc…. You can receive your payments when you reach $50 through PayPal or check and they have a fast payment facility which takes only 15 days.
Chitika is one among the leading ad networks that pays you good ad revenue. Chitika is best in the case of ad placing and in customization of the ads. It will be much easier to blend your Chitika ads with your blog design. And applying for their referral program will earn you much more income from Chitika and their minimum payout is $10 through PayPal and $50 through check. Chitika provides geo targeted ads and mobile ads so that you can earn from the every single visitor that comes to your blog.
Infolinks is the most recommended and highly paying inline advertising network which stands as a good alternative for Google Adsense. Infolinks will convert the keywords in your blog that are not linked to advertising links. They pay really high when compared to other inline ad networks and the payment is done through PayPal with a minimum amount of $50.
And my list concludes here but I know it s not complete and no ad network mentioned above will work great as Adsense does, so better use Google Adsense for your living and make use of these when you have no other way.