Increase Your Alexa Ranking
Alexa Ranking is one of best and most popular ranking system for websites which works on the traffic that a site or blog gets from the users who have installed Alexa toolbar in their browser. But most visitors wouldn't have Alexa toolbar installed and so the Alexa rank is not really based on the real traffic that you get but then too it has got a relevant influence in determining your site's statistics. While measuring the Alexa Rank should be less, its shows your influence in the web and in most cases advertisers and ad networks needs websites with good Alexa Rank i.e. the less is better. So Alexa Rank is a relevant factor to be taken care of before you monetize your blog. See some simple and basic steps to increase your Alexa Ranking.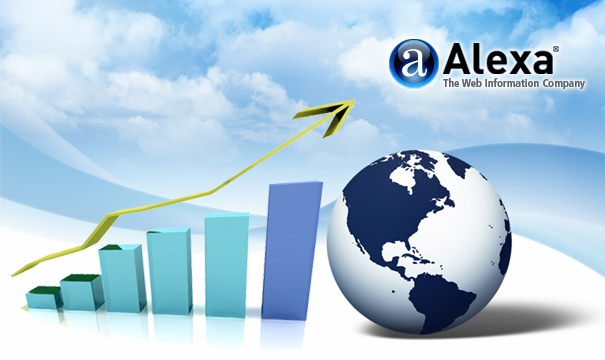 Download & Install Alexa Toolbar
As I said, Alexa rank is determined on the basis of the traffic that a site receives from user, who has the Alexa toolbar installed.  And this toolbar will help you to track the Alexa rank and other information like sites linking back, average load time, reviews, etc… So install the Alexa toolbar in your browser and also do encourage your friends and followers to install it for you. Furthermore add your site as your default home page so that the toolbar could capture more visits.
Add Alexa Rank Widget
Installing the Alexa Rank Widget in you blog is a fine tip to boost your Alexa rank and due to this you can have all your visitors added to your traffic statistics. Moreover this widget will help your viewers to get a fast and simple statistics of your site.
Claim Your Site
For added effect and full control you need to claim your site on Alexa.com so that the users will get information on the ownership of the site and will bring you more traffic.
Get Tech Traffic
Make sure that your friends bloggers and internet geeks visits your blog frequently because those friends who come under the category bloggers and internet geeks are likely to install Alexa toolbar on their browser and so will get more traffic recorded for you by the toolbar and thus it will boost the Alexa ranking of yours.
Have a Review Written
Alexa offers an opportunity to write a review of your blog in Alexa and this facility is also available for the viewers too. So have a nice written on your blog by yourself in Alexa and do ask your friends and followers to write a review of your site on Alexa.
Get Maximum Back links
Back links are similar to human body's backbone, without a backbone one cannot stand up, the condition is same in the case of websites too, and for a website it should have some backlinks in order to get listed among the top sites. So do try your best to get some backlinks from good sites by writing guest posts or by commenting in blogs which have enabled do follow links.
Have a Better Blog
Make your blog an addictive thing for your visitors and for that you need to put up a great effort, updating your blog regularly and writing good articles are the best ways to have a good impression upon your visitors.
Hence do follow up these simple and basic Alexa rank increasing tips and try your best to have an attracting Alexa rank through which you can attract great advertisers to your blog or site and thus earn good revenue.