Funky iPod touch Features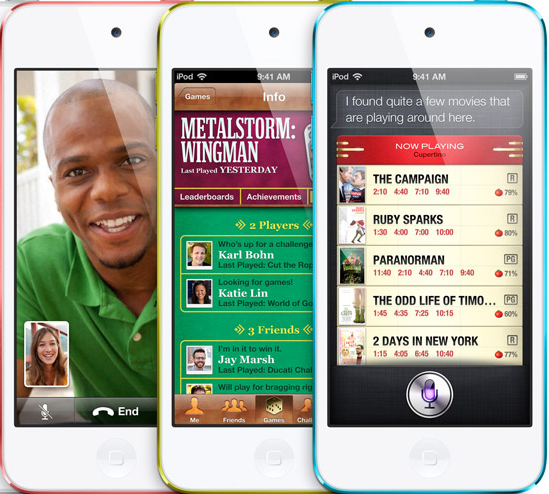 All is the game of features in newly formed devices in the field of technology. The war is on between the creative devices with time. Here iPod touch by Apple is also the one to have a maximum punch of features with all the new designs and powerful quality. This iPod contains many of the qualities of  iPhone 5. The smart touch, wide and beautiful screen with retina display with the same 4 inches view is a true fun item feature. The slimness and smoothness is also exactly the one you get in their phones. Overall aluminum is covered on this cute iPod.
The brand is offering the ear pods with the iPod to take use of it in any situation with comfortable touch and is presented in funky colors which you wish to smooch all the time. A very buttery and ice cream like colors are shown as tints of pink, blue, lime and black and white is stayed white. The bossy look of white accessories adds much glamour and high rank to a simple music device. The out of the world fun is mixed in it to indulge you in. You can put as much as downloaded content in it as you can.
The load of images and movies will attract you to touch more and more on the beautiful and brighter screen. You can keep much of the photos which you caught through great iSight camera in it. The iPod is multi-tasker for you and you will get much of the space that you have the right to get for your wonderful time. Your own personality increases when you see yourself under the snap of this iPod. Wow! The stunning and magical iPod has the display more than some other can have. Are you satisfied enough to spend on one? If no, check more.
Are you familiar with iOS? IPod touch has iOS6 in it with more than two hundred of the totally new features in it. This makes your life easy than before in an actual way. You can perform all the things you like to do on your iPod. You can integrate Facebook, share your photos and upload stuff too. This is not all; your iPod touch is also ready to answer you about anything you want. The browsing is as easy on iPod touch as it was on PC.  The heavy battery limits allow you to get more of your time to fun at the iPod.
The power of iPod touch is in the dual-core A5 chip. The graphics are no more imaginary on it but are more realistic and life like. If you are playing games on it then you can feel the mood of 3D moves not completely but to some extent. The processing speed is faster and grooming is fancy. There is no reason to say no to your iPod now. This is really a wonderful way to achieve something in an iPod comparable to iPhone. The Apple series is actually highest in its own original way.
Author Bio
Lanroni is a passionate blogger and guest blogger who guest posts a mass, he also is in affiliation with a payday site where you can get loans.