Place Your Adsense code at top of post and end of post in wordpress
Placing ads in blog posts is very effective to generate more income with Google AdSense. Many bloggers are searching for WordPress Plugins which can help them in inserting ads in the post.You can install some plug-in slike Ad Inserter and Quick AdSense. In my opinion coding is the best way to insert ad codes in blog posts. If you are not familiar with coding then you can go with plug-in described above. If you're installing a large number of plug-ins in your blog, it will gradually cause slowing down your blog. So it's better to do some coding stuff than plug-ins.In this article i will show you how to insert AdSense script in blog posts without using any plug-ins.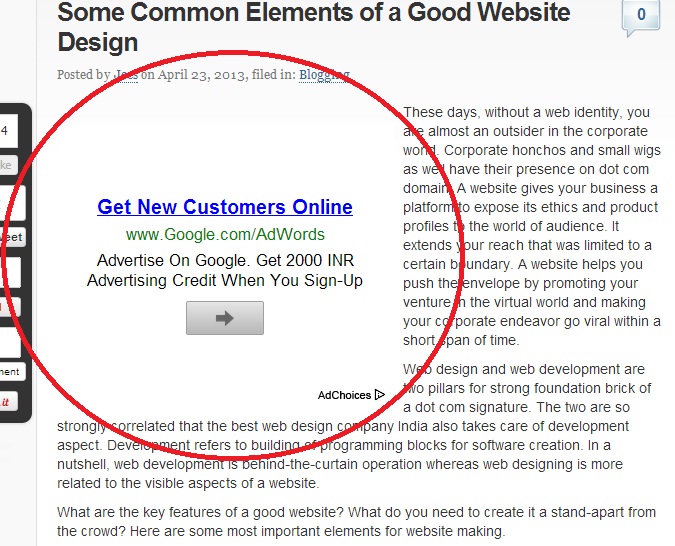 Above Post (Under the Title)
Login to your word press site dashboard
Just Hover  the  mouse on appearance on right side of  the  screen ,  click editor from the given list
Select single post.php ,  which  is placed  the left side of the screen
Find this  code in file ,<div class="entry">
                                    Or
Appearance –> Editor–>select, Singl-post.php–> Find <div class="entry">
Place your adsense script under this code.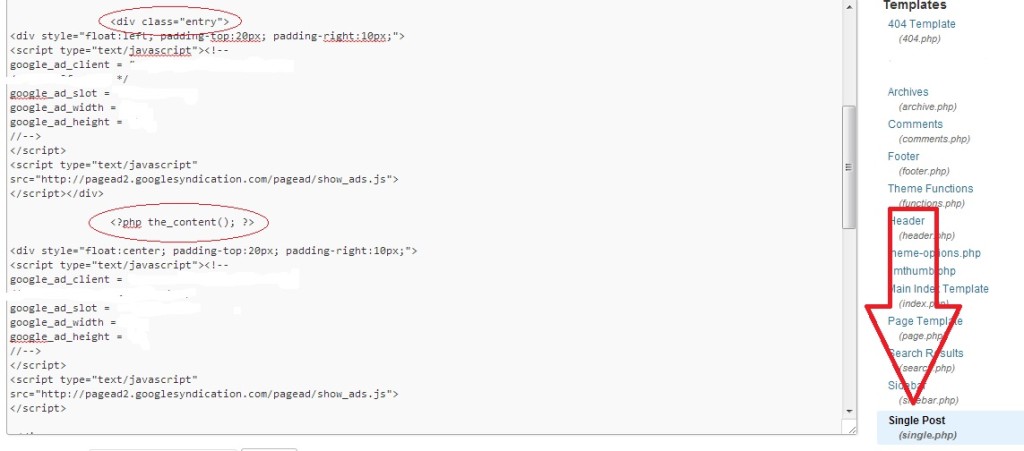 If you  think to align the adsense code  center or left  or  right on the  post ,  like this .
The Adsense Script will execute whole posts in the blog.
Example:-
Left side:
<div

style

=

"float:left; padding-top:15px; padding-right:15px;"

>
Right side:
<div

style

=

"float:right; padding-top:15px; padding-left:15px;"

>
Center:
<div

style

=

"float

:

center

;

padding

-

top

:

15px

;

"

>
At the end of Post
Login to  word press site dashboard
Appearance àeditor à Select Single post.php find  <?php the_content(); ?>
Put your ad code below this code.   <?php the_content(); ?>
If you can't see any code i mentioned, search for content closing div element. </div><!– #content –> 
after the element you can insert your ad code.
If you have to interest to align the ad code, follow the same method as above described
Examble:
<div

style

=

"float

:

center

;

padding

-

top

:

10px

;

"

>